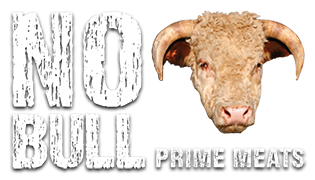 Happy Like a Pig in the Mud
Our Prime Pork is produced by keeping our pigs happy, healthy and comfortable. Our pigs are grain-fed and cared for in a humane way. Their environment is temperature controlled, cleaned daily, dotted with shade trees and offers inside/outside access. Swing by our store, located at 1208 Griegos Rd NW 87107, and browse our selection of Prime pork.
Tomahawk Pork
Pork Chops
Bacon
Pork Sirloin Chops
Pork Roasts
Ground Pork
Breakfast Sausage
Pork Steak
Pork Neck Bones
Pig Feet
Pork Belly
Pork Stew Meat
Pork Tenderloin
Chicharrones
Fresh Hams
Pig Head
Pork Fat
Dear No Bull Prime Meats Customers,

We take the threat of the Covid 19 virus very seriously and have hired an employee to perform the following duties during business hours:
Sterilize all refrigerator and freezer handles, after a customer touches
Sterilize countertops, after customer touches
Sterilize internal/external door handles, after customer touches
Sterilize shelving and products, after customer touches
We thank you for your business and will do our best to help our community get through these difficult times.