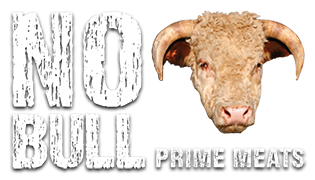 Straight from the Horse's Mouth
Dear Brett & Linda,
I don't tweet, twitter, flutter, or have a face page, but I want to tell the world (or at least New Mexico) that you have the finest beef I have ever cooked, hands down! I bought a prime rib from you when you first opened your store on 12th. I thought it might have been a fluke. Then I ordered a whole tenderloin - Fantastic!! My most recent order was three boneless rib-eyes and a whole brisket. The rib-eyes melted in our mouths, and I smoked the brisket with Texas post oak for 12 hours - I'd put it up against Franklin's (Austin) any day. I am an ACE (Amateur Cooking Enthusiast) and I have purchased beef from a number of high-end suppliers, but you have the richest, beefiest I've ever tasted. I'm coming down soon to pick up another tenderloin this week. In the mean time, since I'm not into social networking, please feel free to use this message, in part or in whole, in any way you chose.
Starts with the Calves
Our Prime Hereford Beef starts with the calves. Each calf is closely cared for by our team as well as their grass-fed mothers.
Help from the Cows
Our Hereford cows are kept in top condition, fed only quality horse alfalfa and given their own pasture to raise their calves on.
Keeping our mommas happy helps ensure the quality of the beef that they and we deliver.
Private Feed Yard
Our private feed yard allows us to keep a close eye on the beef we produce. First, we bring in our steers and give them a chance to bulk up in the first section of the feed yard. At this time, the cattle are primarily fed horse alfalfa and we start them on grain feed in our yard at 4 months.
Next, the cattle are moved to the second section of the feed yard, where they'll enter final preparation. This process takes months and the cattle are fed a mixture of horse alfalfa and our own custom feed blend.
Dear No Bull Prime Meats Customers,

We take the threat of the Covid 19 virus very seriously and have hired an employee to perform the following duties during business hours:
Sterilize all refrigerator and freezer handles, after a customer touches
Sterilize countertops, after customer touches
Sterilize internal/external door handles, after customer touches
Sterilize shelving and products, after customer touches
We thank you for your business and will do our best to help our community get through these difficult times.