The herbaceous smells and raucous happenings of the Italian market flood my senses, yet my deep inhalation is cut short by a hand on my wrist. "Per te, signorina." 'For you, miss.' The man offers me a slice of prosciutto so thin I can see his work-worn hands through it. "Il migliore." The best, he assures me. When I taste the succulent sample, I've no reason to argue the man's point. I bow my head and offer the man a defeated smile as I happily order yet another ingredient I simply did not set out for. I blink and find myself back in my fluorescent-lit reality. "Excuse me, where is the pork belly?" I ask the attendant in the blue 'How can I assist you today?' vest. I receive no reply, and it is anyone's guess whether my question was even transmitted. I clear my throat to test the water and receive a harsh glare. 
"I don't know what that is." The attendant turns and makes a hasty retreat, and I am left wonting for the customer service of day's past. 
On my way home from yet another Big Box Retailer ingredient disaster, a sign caught my eye. 'No Bull Prime Meats…?' I think to myself, already making the turn into the parking lot before my brain registers my actions. Exiting my vehicle, I reach for the door, yet before my hand touches the handle, the door swings open and the voice of a man brimming with confidence calls out to me. "Welcome in! How are you doing today, Miss? I don't believe you've ever been with us before!" The sudden confrontation stuns me into silence, but the way the skin around his eyes crinkled into crow's feet tell me he is giving me a genuine smile beneath his mask, encouraging me to speak up. 
"No sir, never. I was just driving by and was curious as to what type of shop this was." 
The man gave a confident huff-chuckle. "Well, my name's Brett Rizzi, owner and rancher. Why don't I let Jade show you around a bit?" He motioned to the young woman who stood at his side with a welcoming expression, and when I nodded, she happily guided me around what I quickly discovered to be a real and true 'specialty shop'. The likes of which I had not seen since my days living in Rome where the mornings were spent strolling through the market to pick up the ingredients for that day's meals.  Unique seasoning blends, risotto, Partana olive oil, pancetta, and prosciutto; ingredients I was deprived of since living in Rome.  Local boutique items, farm fresh chile and beans; the store truly had a bit of everything, the likes of which I had not seen since the Italian market. Yet the crowning glory was the meat selection, beef, pork, lamb, goat, buffalo. You name it, they have it; and more impressive still is it is all raised by Mr. Rizzi himself on his ranches in Estancia, New Mexico. After the tour, I turned back to the man who had greeted me with my eyes full of wonderment. "It's incredible what you do here, sir." He gave a humble nod as his thanks, tipping the brim of his Stetson to me before making a graceful exit to his office. I turned back to the young woman who had given me the tour. "So, what's the catch?" I ask rather bluntly. It is obvious I've taken her off guard, for she looks at me bewildered. 
"Catch? You mean like…the frozen thing?" She looks at me, desperately grasping at straws as to what I could be asking about. 
I nod, a little disappointed. "Ah, so everything's frozen? So this meat isn't fresh?" 
She frowns, and I wait patiently as she seems to sort through her words. "Well, it's frozen, yeah. But I wouldn't say it's not fresh either. It's really hard to describe, to me it tastes better than the grocery store. You'd just have to try it, honestly." It is an honest answer I wasn't expecting. She was not trying to force a sale, but instead gave her honest opinion, something that was exceedingly rare in sales today. I give her a smile and set out to do just that. She recommends the rib-eye, since that is the cut used to determine the meat's grade. She shows me the marbling within the cut and explains why it is so special to be graded Prime. I'm impressed with her knowledge of butchery, and as I listen around the store, the other associates match her enthusiasm and knowledge. By the end of my experience, I was all too happy to spend a little extra to purchase three prime boneless, dry-aged rib-eye steaks. As I turned to leave, Mr. Rizzi's office door opened, and a hand fell lightly on my shoulder. 
"Here, on me. Let me know what you think next time you come in." He hands me a beef stick, and my heart skips a beat as I am reminded of the man from the Italian market who gave me the prosciutto sample. My chest tightens and a smile is plastered on my face even as tears gather at the corner of my eyes. I can only spit out a meager 'thank you!' before I leave, overwhelmed by such a natural and personal customer service experience. 
I arrive home with ingredients in hand and set out to prepare myself a meal with one question in mind: Can frozen beef ever be as good as fresh? Just the night before I had partaken in a dinner made from a select grade New York strip from a big box retailer. It was chewy, fairly tender and had good flavor; so, what could flash-frozen beef hope to offer?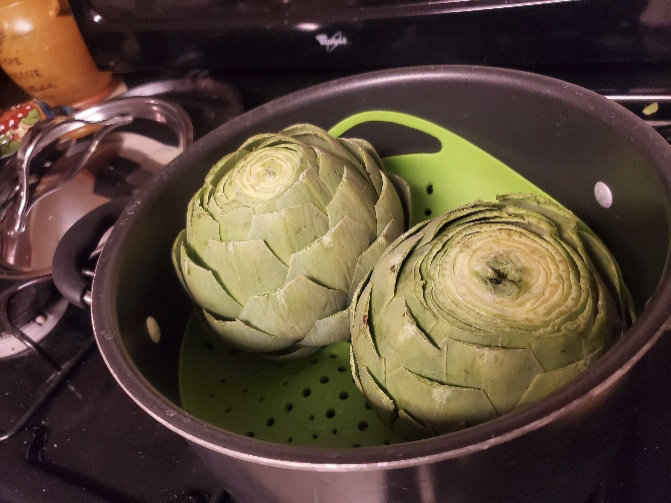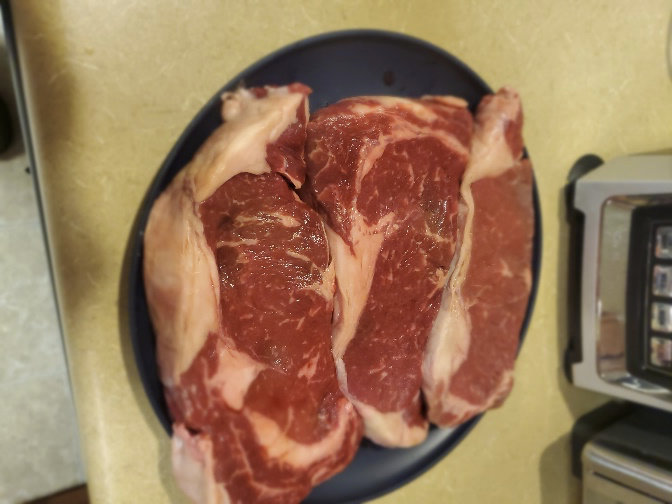 I kept things simple only seasoning lightly with salt and black pepper, wanting to judge only the taste and quality of the beef. After defrosting the steaks in a cold bath of water, I cut the packaging over the sink expecting a wave of blood to burst forth. Yet nothing happened. I slid the steak from its' packaging to find its' blood content still packed securely within the meat fibers, a good sign of quality beef. 
I began preparing the side dishes, heated my grill and finally was ready for the pièce de resistance. After taking a deep inhalation of the tantalizing scent the beef put off upon hitting the grill and enjoying the way the marbling disappeared within the meat fibers plumping the steak as it cooked, I let it rest and plated my side of artichoke and baked potato. I sat at the table with my family, and with a determined nod we each took our first bite of prime beef. 
At first, there was silence, and that sound alone alerted us to the difference we were undertaking. Instead of the snap and pop of teeth breaking though gristle and fat, an eerie silence filled the dining room air as the steak simply fell apart in our mouths. The dense marbling within had produced a texture of butter in the mouth, and I hesitantly set aside my knife, pulling lightly at my next bite with my fork. The meat fell away from itself with ease, revealing more of its picture-perfect light red inside. Even the freshest meat I had ever purchased had not possessed such a color, texture, and taste. In that moment my family and I reach a unanimous agreement: a flash-frozen steak can not only hold par to fresh cuts, but when done correctly produces a better and more flavorful cut of beef to be enjoyed.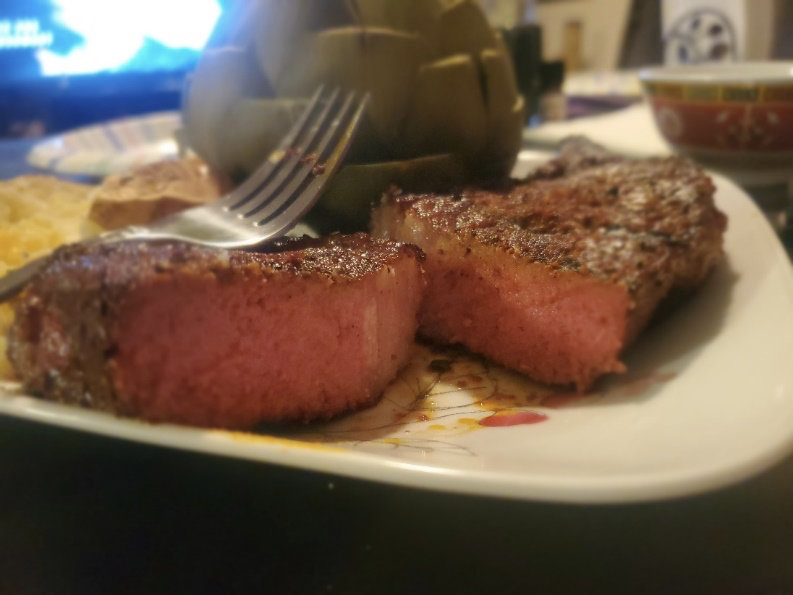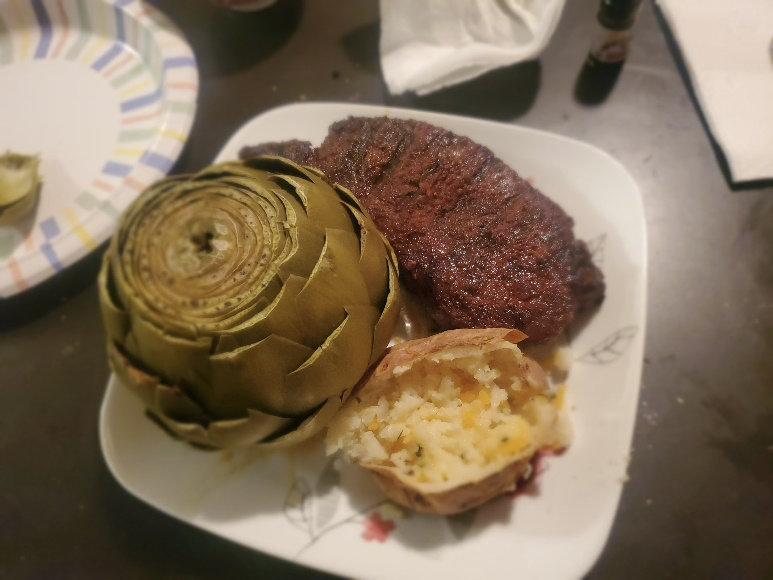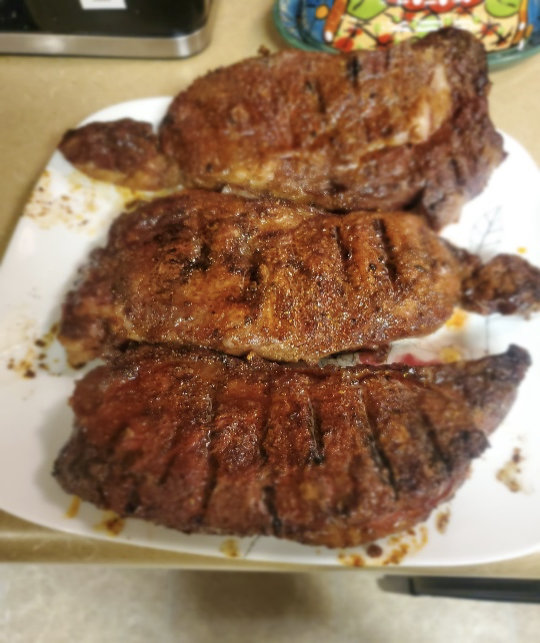 It is no small understatement to say I found exactly what I had been searching for so long. Quality ingredients coupled with expert knowledge and pristine customer service. The combination is a rarity in today's fast-paced world, and it made the meal even more precious. The boneless rib-eye from No Bull Prime Meats was the first steak I had eaten and thoroughly enjoyed every last bite of; and the knowledge that my purchase supported a local rancher who cared so greatly for his craft left not only my stomach but also my heart satisfied. If you, like me, have been searching for a local shop that cares enough to know your name and educate you on your ingredients, look no further than No Bull Prime Meats located at 1208 Griegos Rd. NW, Albuquerque, NM. Their product knowledge, customer service and standard of quality are unmatched, and that's No Bull.